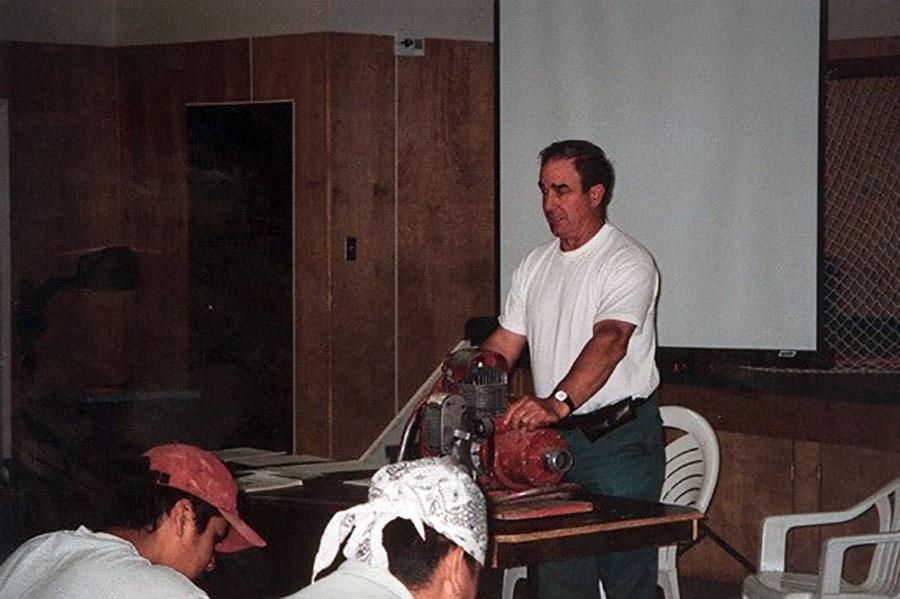 Specialty Services Agency has a rich history of providing high quality training courses in many of the First Nation communities in the Far North and all of Ontario.
Our twelve (12) MNR certified instructors have delivered many courses in the following communities:
Sandy Lake, Deer Lake, Pikangikum, North Caribou, Angling Lake, Big Trout, Slate Falls, Cat Lake, Kasabonika Lake, Summer Beaver, Landsdowne House, Mishkeegogaming, Webequie, Martin Falls, Fort Hope, Wunnummin Lake, Kingfisher Lake, Poplar Hill, Moose Factory, Kashechewan, Fort Albany, Grassy Narrows, Shoal Lake, Rat Portage, Lac Seul, Eagle Lake, Ojibways of Onegaming, Couchiching, Seine River, Lac La Croix, Constance Lake, Big Grassy, Pic River, White Dog, Whitefish Bay, Attawapiskat, Rankin, Wikwemikong, Six Nations (Brantford) , Walpole FN (Sarnia).
We pride ourselves in providing the Chief and Councils' of all our Communities high quality Chainsaw & Fire Courses.
Each spring, Specialty Services Agency offers a complete range of Fire Courses for First Nation clients at Fin & Feather Lodge (near Dryden) and Sandbar Ranger Camp (Ignace).
These two training facilities provide an excellent environment for quality training, good food and accommodations and a safe location where training is our main priority. Each candidate receives an SP 100 Fire Fighter Certificate, Standard First Aid, Chainsaw, and WHMIS training. In the past 5 years our candidate, pass & completion record has been 98% successful.
Our instructors also specialize in providing First Nations in community; Chainsaw and Standard First Aid Training Courses summer and winter.
In an escalated forest fire situation, Murray Macquarrie provides on site field management for deployment of Outland's forty (40) plus Type II Fire Crews.
Please download the Application Form to apply.
Mail completed application form & payment to
Specialty Services Agency
Site 124 Box 32, RR 4
Dryden, ON P8N 0A2

Whether you are a First Nation Community or you just want more information on the program, please contact Murray Macquarrie.